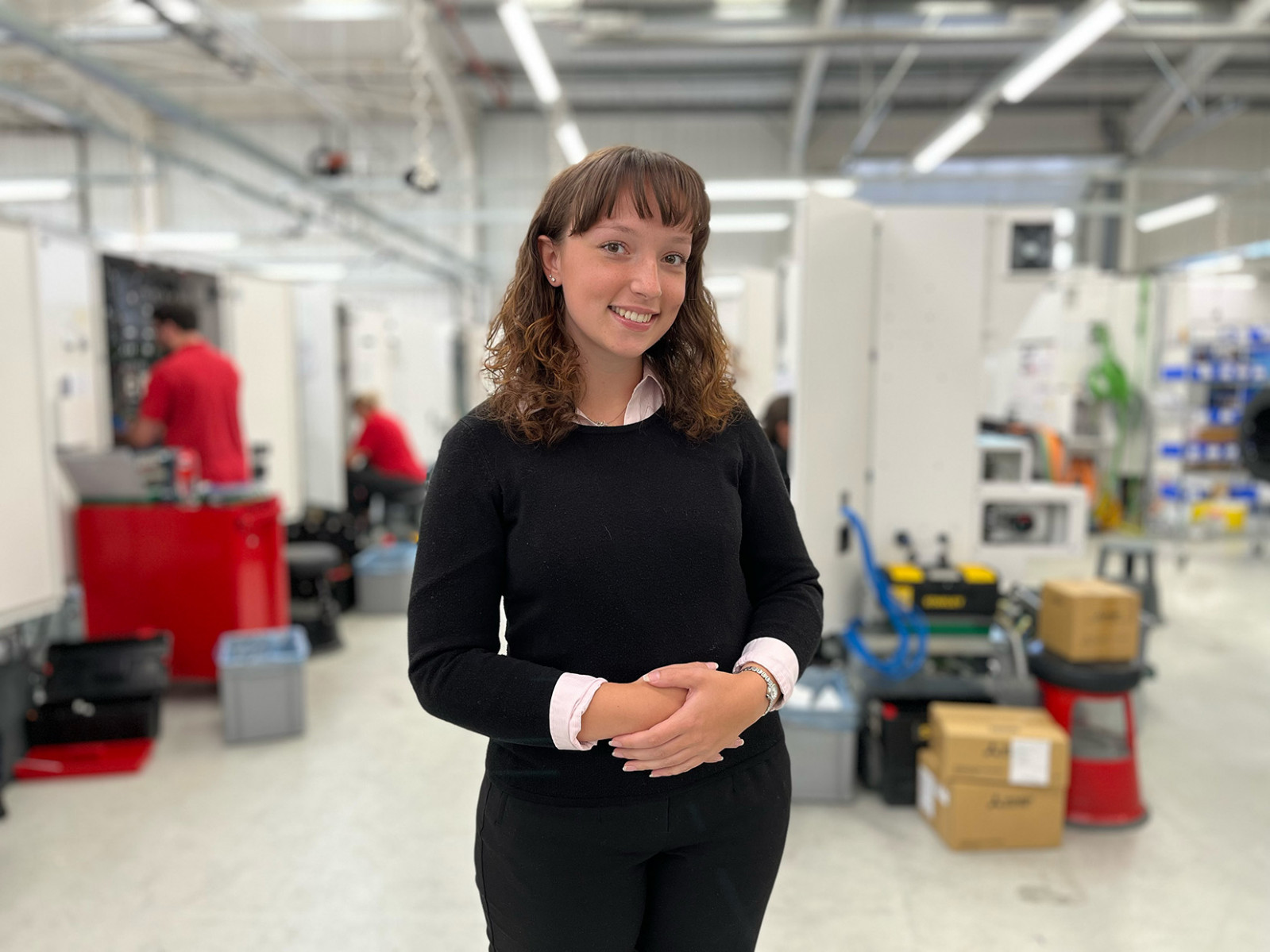 Sophie's electric as PP C&A engineer wins major Engineering & Manufacturing Apprenticeship Award
PP Control & Automation
07/11/2022
A female electrical engineer, who has already delivered a £1m plus new product introduction, has been named as the Black Country's best Engineering & Manufacturing apprentice last night.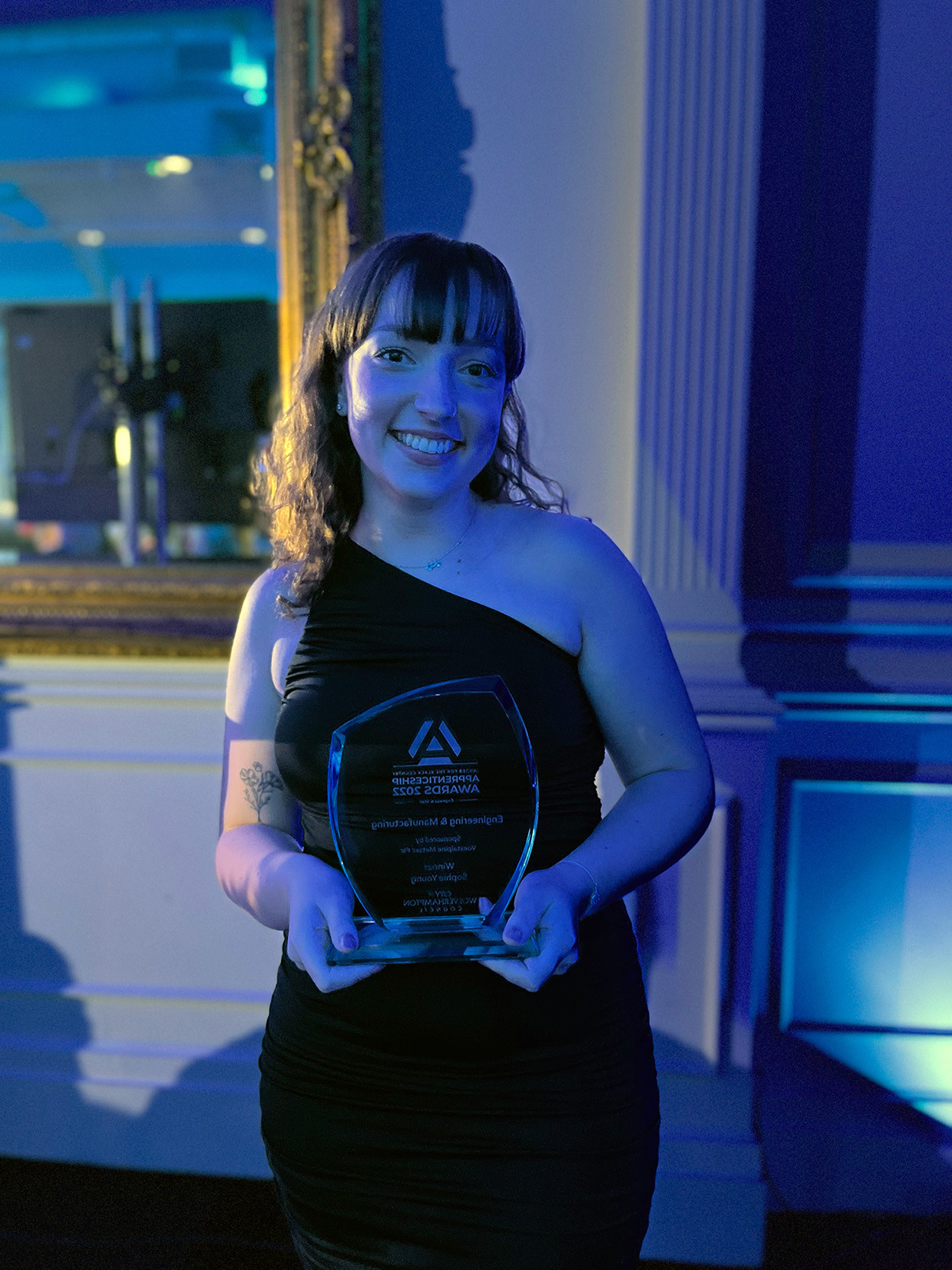 PP Control & Automation's Sophie Young, beat off competition from across the area to secure the Ladder for the Black Country accolade in front of 285 guests at Wolverhampton Grand Station and has already set her sights on inspiring more girls into industry.
The 19-year-old has always shown a keen interest in STEM subjects from a young age and joined the strategic manufacturing outsourcing specialist 12 months ago on an Apprenticeship pathway that will see her attain qualifications from a HNC through to a degree.
She impressed judges with her rate of progression and how she is already completing projects that are delivering financial and operational performance to the Cheslyn Hay-based business, not to mention her willingness to act as an ambassador for women in engineering.
"It has been a great first twelve months in industry and this award has really topped it off nicely," explained Sophie, who was also highly commended in the Overall Apprentice of the Year category.
"There were so many fantastic finalists on display that I was quite surprised to hear my name being announced. I'll definitely use the recognition to continue with my studies and to also shout about how great a career in manufacturing can be."
Within the first five months of her apprenticeship, Sophie was given the opportunity to take a project through from quotation level to completion.
This included supporting the New Product Introduction (NPI) process and working with the NPI team to eliminate faults and develop a product ready for production, carrying out inspection reports on first builds and bridging the product into its own dedicated production cell.
Supported throughout her learning by a Senior Electrical Engineer at PP C&A, she also created a full 3D assembly drawing pack, electrical schematics, and worked closely with all departments of the business to meet stringent deadlines.
She even volunteered to build the first iteration of the assembly to prove out her documentation, cutting out 1-hour of build time by identifying a more efficient method.
The assembly now takes 2.5hrs to produce, which has allowed 100 units to be manufactured in 2022, with 400 units scheduled for build in 2023, shipping both nationally and internationally.
Andy Whittaker, Engineering & Quality Director at PP Control & Automation, added his support: "Sophie has been a shining light since she joined and has developed so quickly, impressing everyone in the business with her passion, hard work, skill and eye for engineering.
"The Award is richly deserved and shows what you can achieve in a relatively short timeframe. I'm sure this is just the start of what will be an amazing career for one of our brightest young stars.
"Competitions like this highlight how important it is for companies to invest in young people and give them the opportunity to learn and grow in your business. It's the only way we're going to solve the very real skills shortage."
The Ladder for the Black Country Apprenticeship Awards was organised by the Express & Star and headline sponsor City of Wolverhampton Council.
Sponsoring the Engineering & Manufacturing Award was voestalpine Metsec plc.
For further information, please visit www.ppcanda.com or follow @ppcanda on twitter