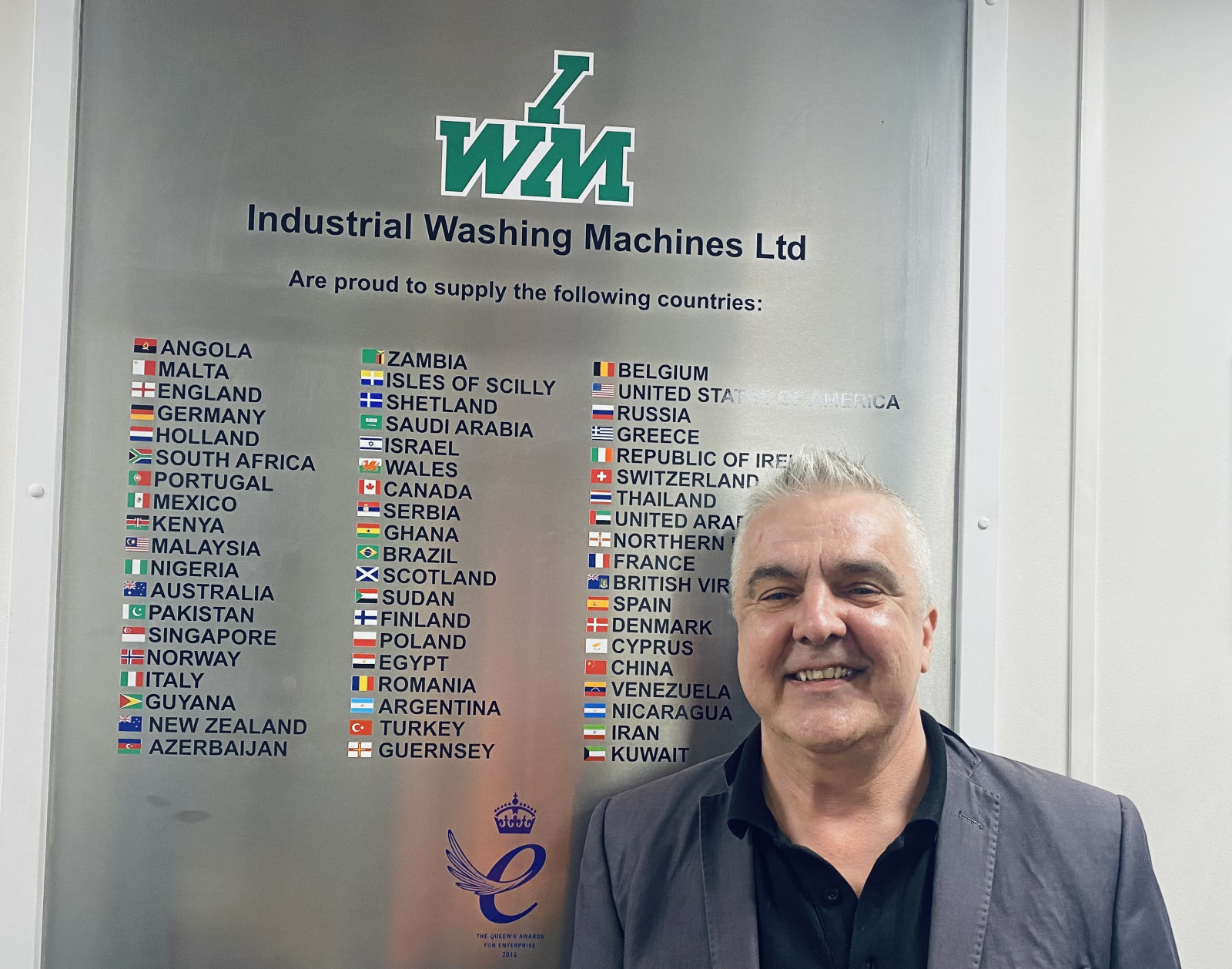 Made Sits Down with Trade Experts Industrial Washing Machines Ltd
Industrial Washing Machines Ltd
23/02/2023
When it comes to International Trade best practice, Birmingham based manufacturer Industrial Washing Machines Ltd. (IWM) is certainly a company to seek advice from. After building a network of trade with more than 60 countries, Managing Director Carl Hollier tells us how the company has achieved this over the years through focusing on opportunity, whilst ensuring to prioritise original contracts.
Who is IWM?
Family run business Industrial Washing Machines Ltd. has created an unmatched reputation for the supply of equipment to the global food, pharmaceutical, Industrial and automotive sectors over the course of the last 40 years. Based in South Birmingham, their range includes tray washers for supermarket baskets/crates, bread basket washing and drying systems, pallet washers, utensil washing equipment and component cleaning machinery.
Global Footprint
IWM have supplied washing equipment to companies all over the world for a multitude of industries, particularly the food producing and processing sectors. This impressive global footprint achieved by a medium sized family run business, has been down to the company's strategy to establish connections with predominantly English speaking countries, who then in turn introduce IWM to branches in foreign language speaking countries. For example, using contacts in USA to springboard into Mexico etc.
"The UK is a leader in food production and has a lot of global brands. The industry works within top quality British and European Standards which are readily accepted worldwide. Our grassroots are satisfying that industry, which has given us an advantage when trading internationally." Carl, Managing Director at IWM, said.
Carl highlighted that, mainly through exhibitions, IWM has demonstrated their equipment across Europe, the US and The Middle East. Whilst this has been beneficial for exposure, the real success has come from activities whilst diligently following up enquiries and visiting international clients.
"When visiting clients, whilst focussing primarily on the matters in hand, we are always exploring opportunities with those clients' own networks." "Once we have built up a strong relationship with a new client within any given territory, the knock on effect into other areas almost becomes self-fulfilling."
"In the Face of Adversity There is an Opportunity to Grow" - Carl Hollier
In 2014 the company achieved the Queen's Award for International Trade. This success derived from their major focus on export development in 2009 - at the height of a recession. The focus on exports gave them the exposure they needed to build the reputation throughout this challenging time.
In addition to that, they began to sell in volume capitalising on the expertise within the business as many employees have worked there for 20+ years. On the contrary, what made them unique internationally was the ability to be flexible and come up with solutions - adapting machines to fit individual company needs. This approach also helped them during the height of the COVID 19 pandemic and BREXIT transition when supply chain issues were at their worst.
"When Covid struck and sales dropped, we made sure not to focus on sales / turnover but were planning for sustainable and profitable growth."
The Future for IWM
2023 has been successful so far for IWM. In less than 8 weeks into the year the company Is seeing a dramatic increase in sales at home in the UK, and in the USA. The export side of the business has been based on building strong relationships with agents and the distributors' own increasing sales networks and international development.
As they look to the future, their biggest priority is looking at recruiting new staff whilst retaining the knowledge of their employees. Carl said "We need to invest in new skills and knowledge in order to keep up with the development of technology."
After investing in a brand new ERP system and looking at renewing processes, IWM is now actively recruiting. In order to increase employee satisfaction, the company now works to a 4 day working week reducing working hours from 39 to 36 hours.
Join Carl on 22nd March as he shares his International Trade Best Practice LIVE at the Backing Britain Virtual Breakfast Morning
https://madeinthemidlands.com/events/backing-britain-virtual-breakfast-morning-10